Transforming Lives, An Outfit at a Time
Somewhere on East 52nd Street, in the heart of Manhattan's tony midtown, a bell is ringing, and women are whooping and hollering. Another Bottomless Closet client has landed a job -- time to celebrate.
Each year roughly 3,000 New York City women facing a raft of challenges – poverty, domestic abuse, incarceration, limited education, refugee status -- walk through the doors at Bottomless Closet as job applicants and walk out as more confident job candidates.
"When they leave our office, they have the clothing, the resume, and the interview skills to ace that interview," says Melissa Norden, Executive Director of Bottomless Closet.
Norden, her high-energy team, and a volunteer squad of nearly 200, traffic in transformation – suiting up women with work ready clothes, polished resumes, interview coaching and the best accessory – a healthy dose of "you've got this" confidence.
"What's most noticeable is the change in the look on their face, it's more than the clothes that they're wearing," says Norden.
Nearly two-thirds of women receiving Bottomless Closet clothing and coaching return with a job in hand. Second appointments bolster work wardrobes, but they all begin with noisy celebration -- clients proudly ring a bell near the front desk so staff and volunteers can pour out to applaud and cheer.
"It's a very empowering moment, when they get the job and ring the bell, and celebrate with the staff and volunteers.
"But most importantly, for the other clients – who are waiting for their first appointments, who maybe at this point in their search cannot see the light at the end of the tunnel – they see someone like them, who's made it, and it's a very, very powerful moment," says Norden.
Regardless of whether they get the job, all clients immediately gain access to the approximately 75 workshops on financial management, professional development, and personal enrichment Bottomless Closet holds each year.
Norden brings nearly 20-years in nonprofit management to her role as executive director and a personal commitment to connecting to women and work, rooted in her own brush with joblessness. After 13 years at the ASPCA, as Chief of Staff and General Counsel, a reorg of senior staff left Norden without a job for the first time in nearly two decades. And it shook her.
"If I hadn't had a successful career and an expensive education," said Norden, "I could've been one of our clients. I had money in the bank, I had family, I had friends, I had an education, which many of our clients lack."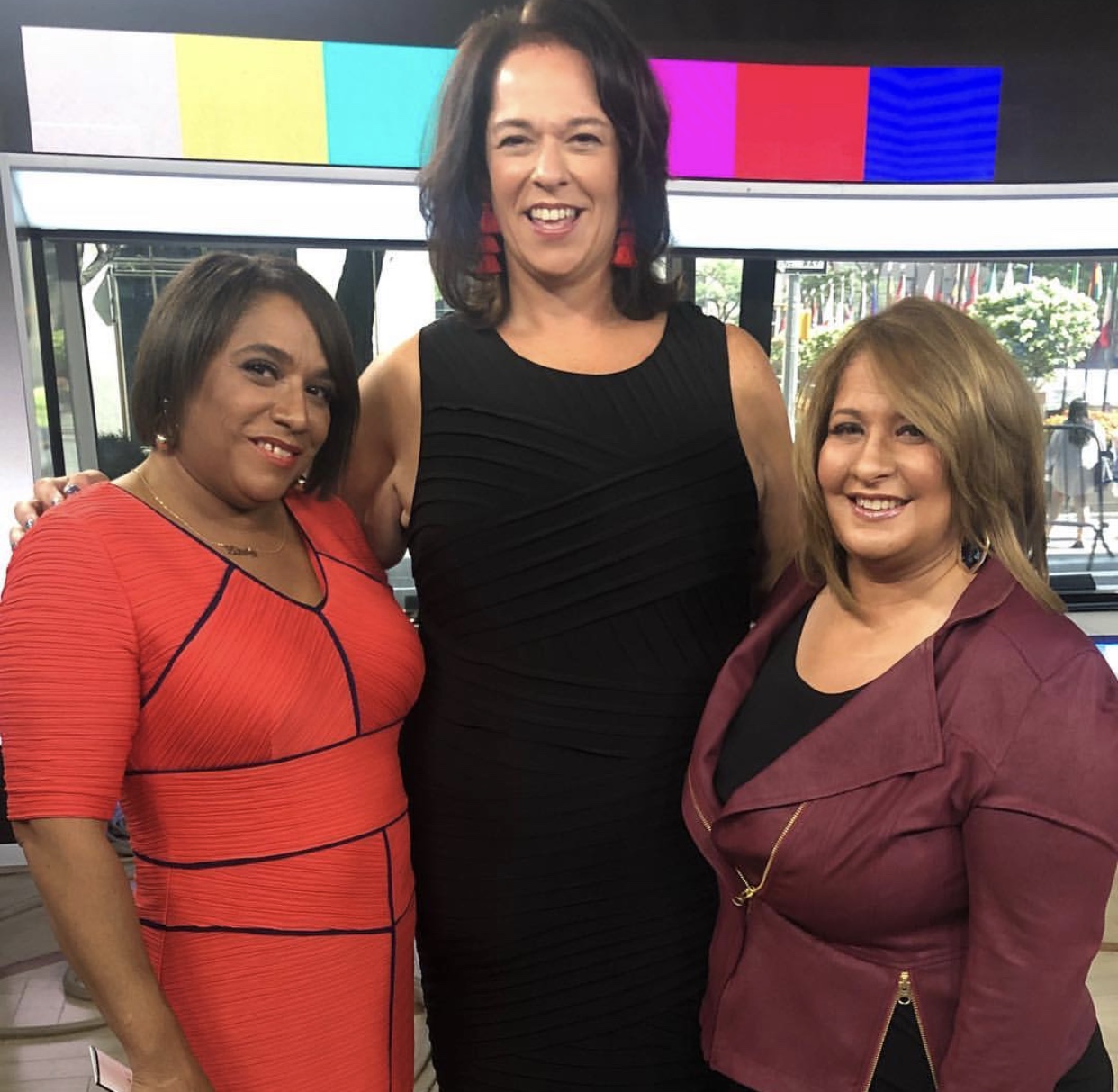 Bottomless Closet on The TODAY Show
Melissa Norden joins two Bottomless Closet clients as they get makeovers on The TODAY Show.
Since joining Bottomless Closet in 2016, Norden has added new fashion corporate sponsors including MM.LaFleur, Global Brands Group, and Perry Ellis; reinvigorated the organization's social media (follow @BottomlessClosetNYC for a feel-good feed on Instagram), and even landed a segment on The TODAY Show thanks to supporter Susan Sarandon.

In this #WatchHerWork profile, Melissa Norden shares how a "non-fashion" person came to believe in the transformative power of clothes, and why she considers a sense of humor a job requirement:
I love the Bottomless Closet tag line, "The Outfit is Just the Beginning." Tell me more about that motto.
"Our clients need special attention, since many of them have challenged backgrounds. They have big gaps in their resume. Many have other challenges, whether it's a formerly incarcerated status, or they are aging out of the foster care system, or they're domestic violence victims. They need personalized attention to get back to work.
When they come to our office, they are matched one-on-one with a career coach, who is a fully-trained volunteer who handles the duration of the appointment from the clothing to the resume to interview skills. So, the outfit really is just the beginning."
Walk me through a typical client interaction.
"Many of our clients have never been to a store before, don't know what size they wear, don't know what's an appropriate outfit for interview, but others have a distinct opinion and preference. We start in the boutique to see what they would like to wear, what they think is appropriate for their interview.
On the first appointment, they will get one to two career-appropriate outfits. They get accessories, shoes, a purse, and that half of the appointment usually takes up to 45-minutes, and during that time, it's not just about the clothing, it's about developing a relationship with the client and getting to know them better."
Next, it's resume prep and interview coaching.
Our volunteers go through things like, 'Make sure you make eye contact. Have a firm handshake,' and things that are tougher like, 'What's going to happen when it comes up that you were in prison? Do you know your rights as far as what you do and don't have to say? How are you going to explain this large gap in your resume?'"
I know you had your own resume gap to contend with a few years ago. How has that informed your work at Bottomless Closet?
"I've met clients who have had really good careers and one small thing happens and they're out of work for six months and in a shelter, and I never had to fear that. While I can't relate to our clients 100%, I can relate to them in a way that sometimes other people cannot.
Our clients have a sense of, 'Don't look at me, I'm embarrassed about how I look, about being without a job, or having been through negative experiences,' and I can relate to that as well.
Norden, Bottomless Closet staff and volunteers all smiles with new corporate donations.
I'm not a fashion person…but I see how it makes people feel, and how it changes the expressions on their faces, and that's everything."
That is so powerful. And your relationship with your clients doesn't end at the closet. Tell me about the programming you offer to help women thrive once they've landed jobs.
"We run workshops on professional development topics like how to do your LinkedIn profile, how to ask for a raise or a promotion. In personal enrichment, we cover things like a makeup application class at Sephora, for proper workplace makeup, and yoga for stress relief.
In financial management, we also offer Banking 101, how to buy your first home and everything in between. A lot of the clients we serve have debt, and we want to get them out of that debt and help them become financially stable so that they can keep their jobs and continue to improve their financial health.
You can actually graduate from the financial management and professional development series. It's a real achievement for a number of women that we serve, who may not have a formal education or have an incomplete education. It's a real resume-booster for them."
Your own resume boasts a law degree. How did you make the switch to nonprofits?
"When I graduated from law school, I waited for the right job. I had one of those life decision days. I got offered two jobs in one day. I got offered a job as first general counsel at a financial services company, with stock options, the whole nine yards and this big title, and then I got offered a temp-to-permanent job at a brand new foundation at Madison Square Garden, that was starting up to help after-school programs in the public schools.
Any sane person probably would've chosen Job A, and I chose Job B. Actually, what really made a difference for me, is that my dad had always wanted me to work on Wall Street and make a lot of money and I never wanted to do that.
I said to my dad, "I don't know what I should do, there's all this money and this great job title," and he replied, "Well, you've always told me you wanted to be a do-gooder and work at a nonprofit. So, why do you even have to think about it?'"
That's so great Melissa! Talk about a transformation! Before I let you go….Running a small nonprofit requires juggling a lot of balls. How do you manage stressful days? Days that are a 2 instead of a 10?
"We really don't have days that are a 2, to be perfectly honest. Our clients have circumstances that I can't even begin to imagine, and for me to complain about working in this great place and having a job and working with people that I like, that are smart, and that I care about, my day ain't so bad. The stresses that we have, are usually good stresses, and we laugh every single day in our office.
I always put in the job descriptions, 'Must have a sense of humor.' Other people on my team have crossed it out, and I'm like, 'No, no, no. Honestly, we need to get along. We have a team that gets along really, really well and can laugh.'"
Thank you, Melissa, for sharing a look at your work and the difference Bottomless Closet is making for so many women in New York!